Exceptional Golf
As a more experienced golfer, you may appreciate the challenge that The Royal's eighteen-hole, championship-style course offers. This is an old-fashioned shot-makers' course that demands more of a golfer with each round played. The Royal Nine offers a par-35 course, the perfect environment to improve your game and relax with friends.
Course Info
The Royal Ottawa Golf Club offers one the finest courses in the area. Graced by the natural beauty of the Gatineau Hills, our 18-hole facility spans 6600 yards, par 71. As a member, you will enjoy the Club's in-town location, availability of tee times, and speed of play; every golfers dream.
The original Course architect was Tom Bendelow of Chicago, who at the time was a leader in the industry. The original design was subsequently amended by Willie Park Jr., winner of the British Open in 1887 and 1897.
The Royal Ottawa course is a natural, old fashioned layout, designed according to what has been called 'the Scottish principle', where emphasis is placed on the natural lay of the land, rather than artificially created hazards. These features are emphasized on holes number 9 and 15 which require precisely placed tee shots to be followed by Woods or Long Iron approach shots for all but the longest of hitters.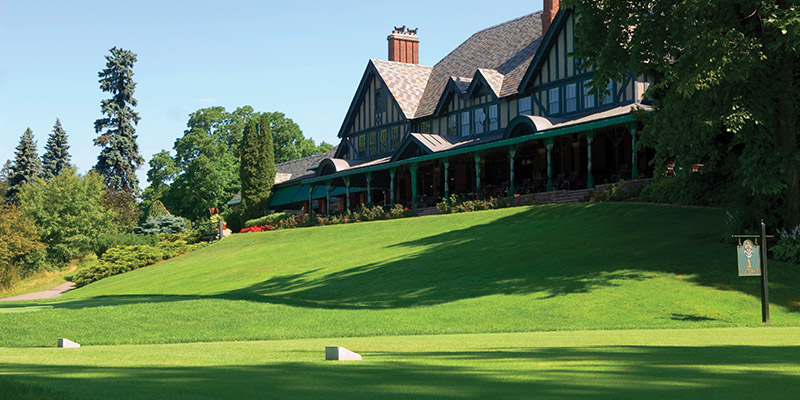 The topography is unique as it was built before the days of massive earth-moving equipment. It's hills and dales have always been a source of both joy and frustration. The various tee positions fairly challenge all caliber of golfer. At the end of a round one will have used every club in the bag.
The greens are fast and smaller by design requiring accuracy, clubface control and skill. As examples, the first three holes of the back nine challenge the golfer to hit precise shots to the green. Number 10 is as small and well protected a green as can be found, while landing the ball in the wrong area of 11 or 12 often results in a three putt due to the slope and speed of the surfaces.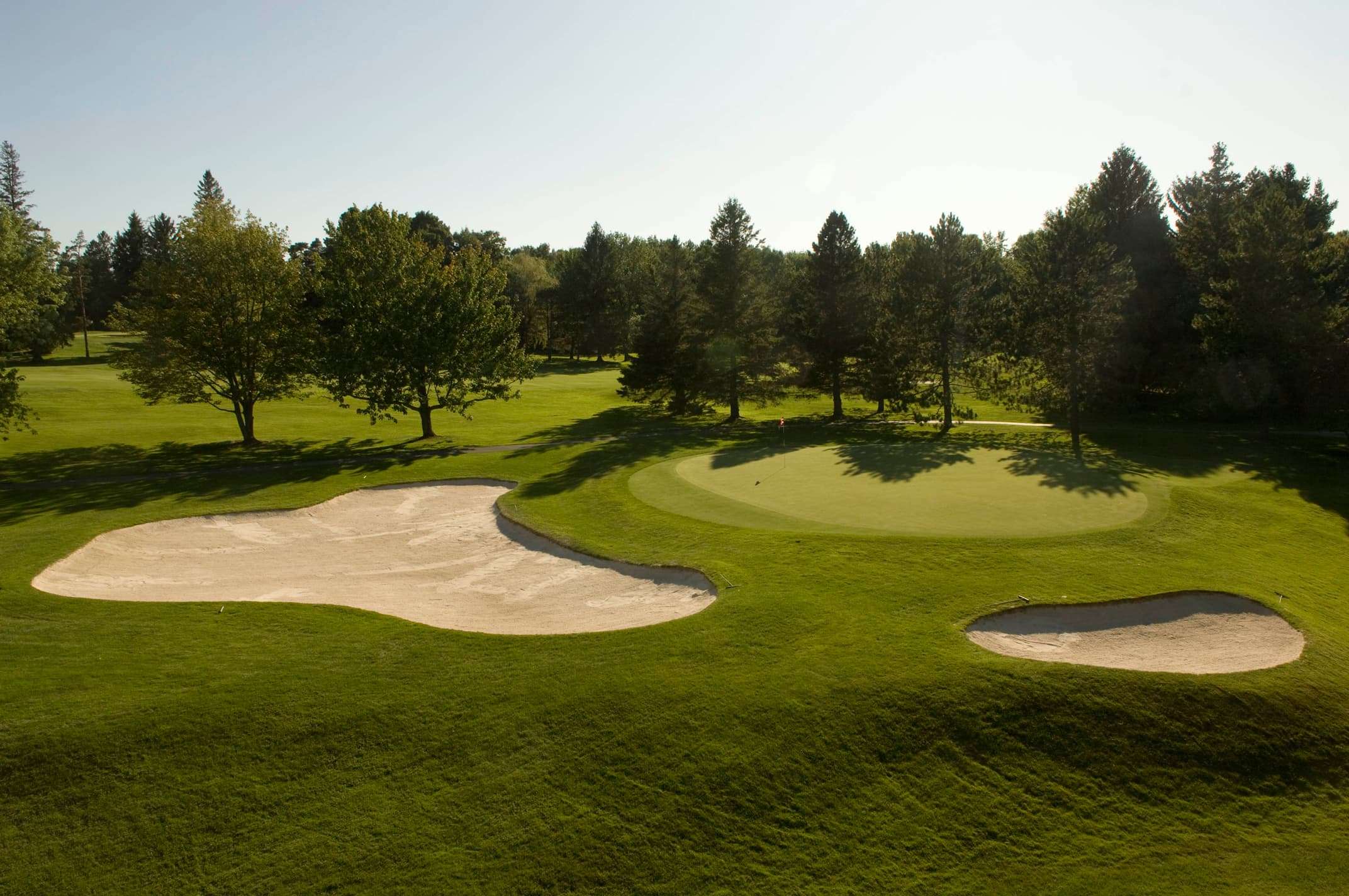 The Royal Ottawa course caters to those who like to walk. Tees are located close to the previously played green so that there is little delay. Indeed the majority of rounds are completed in well under 4 hours, without feeling as if one "raced" around the course. As well, the club boasts a spectacular variety of trees on the property that offer the player an excellent backdrop of changing colors throughout the year.
After a satisfying round of golf, there is no better place in Ottawa/Gatineau to enjoy a post game refreshment than The Royal's exquisite patio or verandah. The golf course views are spectacular.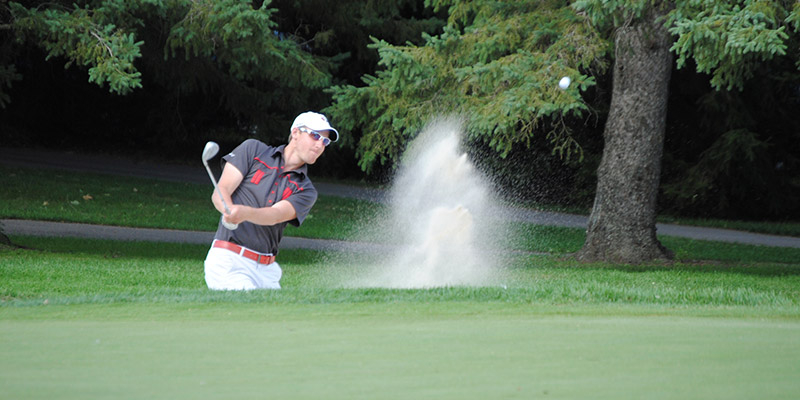 The Royal Ottawa members are committed to continuing the tradition of maintaining a superbly conditioned golf course and unquestionably one of the premier golf courses in North America. A state of the art watering system was installed in 2001 while all of the bunkers were completely renovated in 2004.
The LPGA was played at The Royal Ottawa Golf Club in 2000 with the cumulative combined scores of all players being above par attesting to the challenging nature of our course. The feedback from these professional golfers, was extremely positive.
For these reasons, as members, we never tire of playing The Royal Ottawa course. Our course has the feel of being in Scotland or Ireland. We enjoy playing other fine courses but always look forward to returning home.
The Royal 9 is the 'jewel' of The Royal Ottawa Golf Club. At just over 2500 yards, the 9-hole course is the perfect venue for new golfers of any age. It is a great way to introduce children to the game, and offers a perfect outing for the family that includes golfers of varying ability. In fact, the Royal 9 can be a true test for even the most seasoned golfer. Many of our experienced golfers also use the Royal 9 to hone their skills.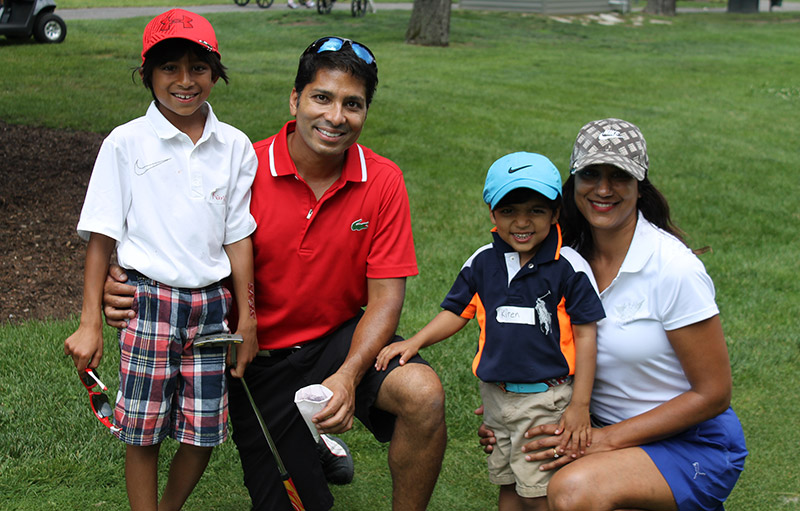 The Royal 9 has undergone a significant transformation in recent years, to make the course more challenging, including the addition of a tricky little par 3 at hole number 4. The rating for men is 63.9 with a slope of 103, while for women it is rated at 69.2 with a slope of 121, and par is set at 34 and 37 respectively.
Many of our members make an afternoon of it, and enjoy the challenge of the Royal 9 followed by dinner in the clubhouse or at one of The Royal Ottawa's sumptuous barbeque buffet dinners. Our popular "Nine and Dine" special package offers our members the opportunity to bring guests for a round on the Royal 9 with dinner in a relaxed yet challenging and fun environment.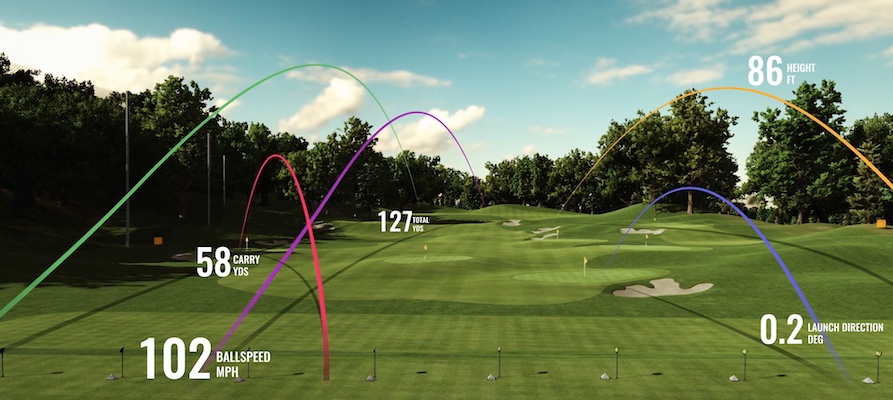 An Active Junior Golf Program
The Junior Golf Program provides activities that serve the needs of three categories of Junior Golfer: newcomers, developing Juniors and competitive Juniors.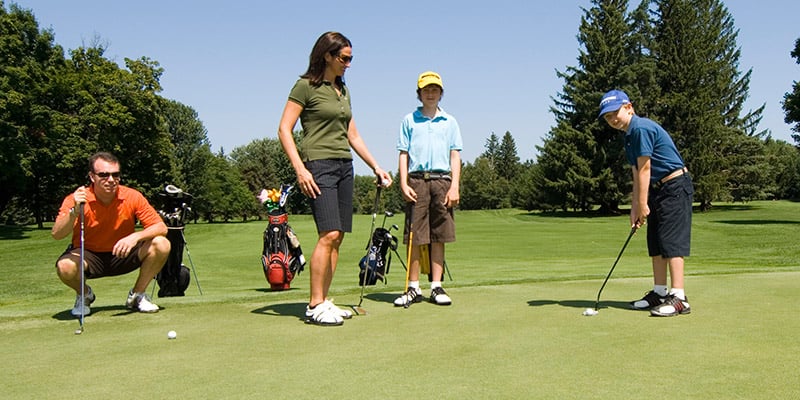 Club sponsored activities that begin in early May continue through to the School exam schedule in mid June…then resume during the first week of July.
Our practice facility and Royal Nine golf course provide excellent opportunities for Juniors who wish to learn, develop skills and enjoy the game with friends and family…practically any time of the week, all year.
Juniors can join as early as age six years (with some playing restrictions until age nine years)…all designed to encourage family play.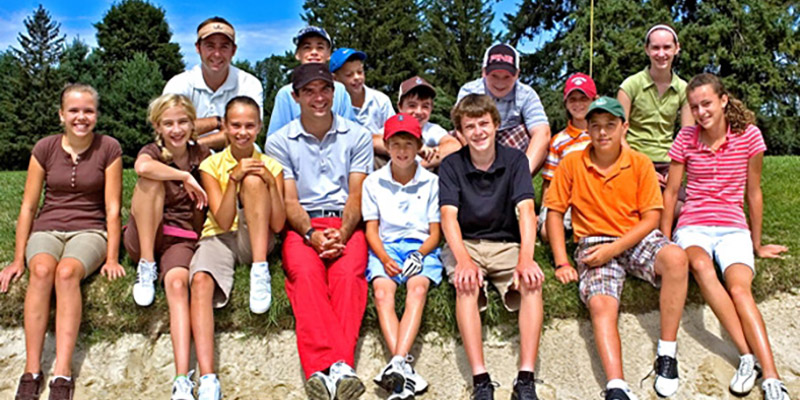 The Professional Golf staff are key supporters of skill development through coaching, clinic and camp instruction and have developed a very well structured golf school specifically tailored to our Juniors. The program includes 2 four day camps during the first week of July and August that is geared to newer golfers. In addition, there is a 6 week coaching program, twice per week from May to mid June for developing players. We also have a series of 4 Saturday clinics during May and June for our newer golfers. All in all, the Club is a true supporter of Junior Golf.
Professional Shop – opens a half an hour prior to the first tee time.
Practice Range – opens a half an hour prior to the first tee time and closes one hour prior to dusk.
Paul Carrothers – Director of Golf since 1997
Originally from Montreal and a graduate of McMaster University, Paul is a 30 year veteran in the golf industry having learned the game from some of Canada's finest golf Professionals in Quebec and Ontario. Paul has been recognized as a true ambassador of the game by being appointed to both National and Regional level board positions, along with serving as Ontario PGA and Ottawa Valley PGA President. Paul was named 1992 Ontario Assistant Professional of the Year, 2004, 2007 and 2008, Ping Fitter of the Year and most recently 2005 Head Professional of the Year. He is a certified Level II hockey coach, and a Ping, Callaway, and Titliest Club fitter. Paul is happily married and a proud father of a budding junior member here at Royal Ottawa Golf Club.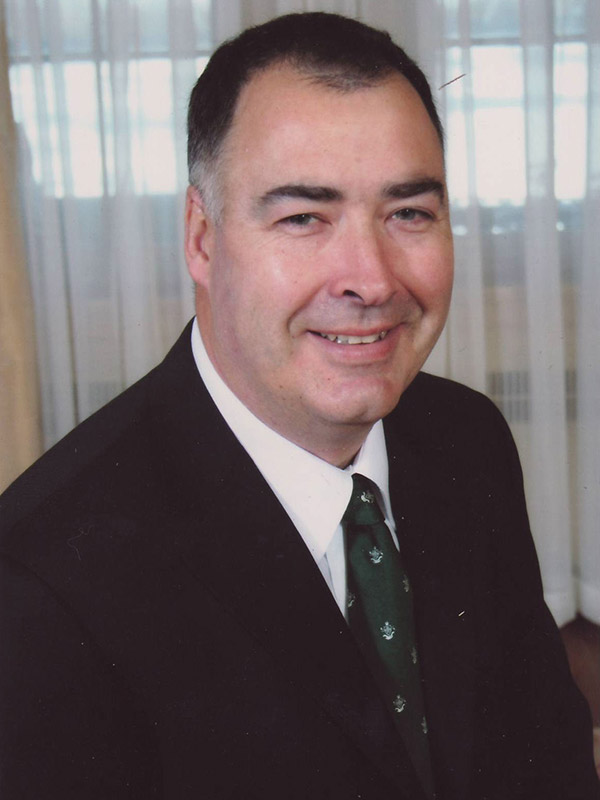 Marc Rouse
Originally from small town Port Rowan and a graduate of Niagara College in the Golf Club Management program, Marc grew up an athlete playing highly competitive sports but found a passion for golf and the industry at a young age. He is a former employee of the Royal Ottawa Golf Club completing his two term co-op with us. From there, he spent four years in London, ON gaining a knowledge and understanding of the industry, dedicating himself to the members, and advancement of the game. Marc looks forward to sharing and helping you enjoy your experience at the Royal each day.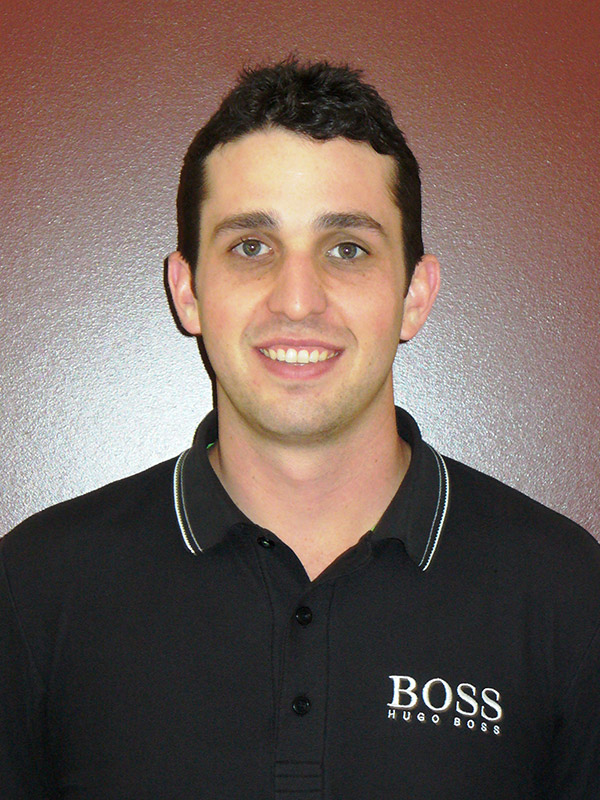 J.C. Beecroft
Originally from Newcastle, Ontario, J.C. spent four seasons as an Assistant Professional at The Oshawa Golf & Curling Club, where he played  a large part in of the development of the Junior golf program. He also grew up playing as a junior there since the age of 12. In 2009, he graduated from Ohio Valley University with a degree in Marketing & Management and was a four year starter on the Men's golf team. As a professional, J.C. is a Class 'A' member, a certified club fitter, and a PGA of Canada trained Coach of New Competitors. Since the age of 15, J.C. has been no stranger to competition. As an amateur, he played in the Canadian Amateur championship twice, and continues to compete in local, provincial, and national championships as a professional. J.C. is also a certified Level 3 hockey referee and most recently, an Ontario Curling Association trained Club Coach.
J.C. is excited to begin a new journey at The Royal Ottawa Golf Club and looks forward using his knowledge, experience, and love for the game to assist you.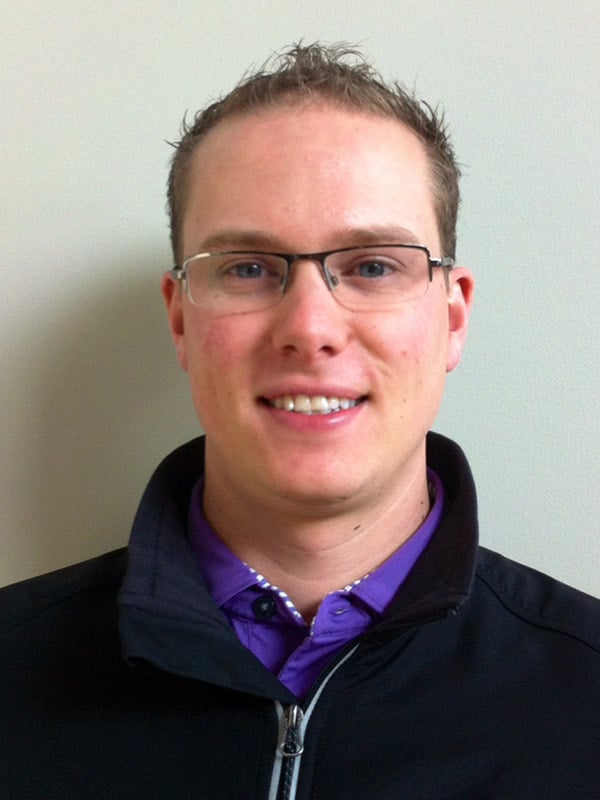 Dave McDonald
Growing up in Smiths Falls, Dave played many sports but found a passion for golf at the age of 13 when he started working in the back shop at the Smiths Falls Golf & Country Club. A graduate of the Professional Golf Management Program at Humber College where he played on the National Championship Golf Team in 2005. Dave is a Class 'A' member of the PGA of Canada and is currently ranked 23 on the PGA of Canada Player rankings. A few playing highlights include Spring Open Champion (2011), and winner of the PGA of Ottawa Zone Championship in 2015 and 2016. Dave was named Assistant Professional of the Year for the Ottawa PGA in 2015 and nominated in 2016 & 2017. When not at the golf course Dave enjoys spending time with his wife and two boys.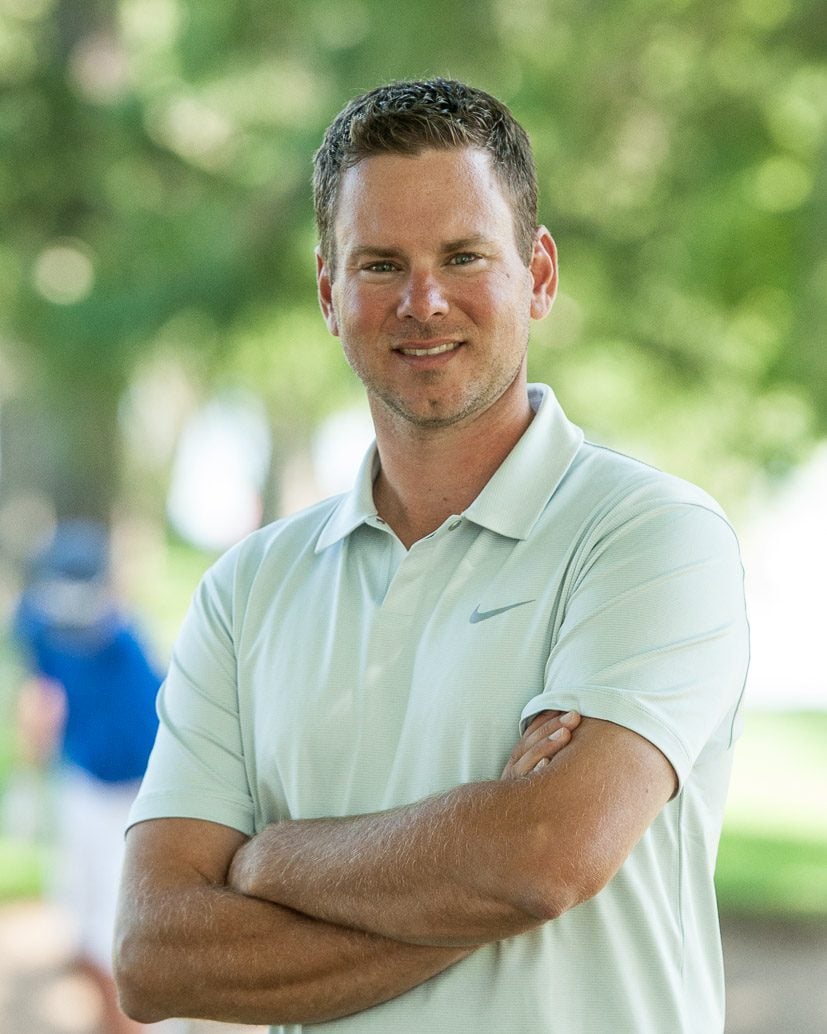 The Professional Shop prides itself on carrying a wide variety of the industries finest men's, ladies and junior apparel to best suit our members golfing and fashion needs. Callaway, Ping, King Cobra, Taylor Made and Titleist fitting systems are all present on site and are available to properly fit your personal equipment needs. Video teaching is another serveice offered to provide the very latest in teaching. The Professional staff is always on hand to assist you with any golf or corporate equipment related issues, questions and any of your Royal Ottawa Golf Club related inquiries.
The CPGA Professional staff has flexible schedules that easily accommodate to booking private & group lessons. Available to fit your golfing improvement needs, the Professional staff offers a variety of instructional opportunities. These include: video analysis, on-course playing lessons, coaching programs, private lessons, group lessons, and clinic settings. It is the initiative of the Golf Professionals to work with the student to best establish a program that will see growth, improvement, and enjoyment in their golf game.
Our corporate program continues to grow in popularity. Prizes, gifts and tournament giveaways of any quantity, price and embroidery options are available to meet your business needs. Our corporate program offers timely service at the best price in town without any added cost that a marketing company would apply.
Contact Paul Carrothers at (819) 777-0593 ext. 3 or paulc@rogc.com for further details or catalogue request.
Click here for a PDF containing directions and other useful information about visiting The Royal Ottawa Golf Club.
Click below for PDFs of our 2020 Scorecards
Hybrid | Main Course | Royal Nine
The Club is conveniently located only minutes from centretown Ottawa/Gatineau. At just 10 km from the Parliament Buildings, The Royal offers exceptional accessibility for a quick nine before work or a leisurely eighteen on a warm summer evening. As a Private Golf Club, the member who introduces you should provide you with all necessary information to make your visit to our Club a memorable one. Here are a few guidelines that will enable you to have a relaxing day at The Royal.
Upon arrival, please present yourself to the Professional Shop personnel who will be pleased to assist you with further directions and any other assistance you require.
The Royal maintains a dress code policy that is in keeping with the traditions of the game of golf. Feel free to contact the Professional Shop at 819-777-0593 and they will be happy to answer any questions you may have.
Please be reminded that the use of cellular telephones and non-vibrating pagers is forbidden in all areas of the Clubhouse, including all lounges, reception areas, verandah and patio, range and practice areas. (Men's and Women's locker rooms, and the parking lot are excepted.)
We pride ourselves on our ability to maintain a normal pace of play of 2 hours per nine holes and a total of 4 hours for 18 holes.
We hope you enjoy your day at The Royal.
After the game, we hope that you have an opportunity to enjoy our clubhouse facilities including our excellent menus and services.
Dress Code Guidelines
The Royal maintains a dress code policy that is in keeping with the traditions of the game of golf.
Men – golf shirts with a collar or turtle neck tucked in, tailored golf shorts no higher than three inches above the knee cap and sockettes or knee length turn down socks are accepted. Blue jeans or golf sandals are not allowed as part of our club dress code.
Ladies – golf shirts with collars, turtlenecks or mock turtlenecks (sleeve or sleeveless) are acceptable. Golf shirts without collars must have sleeves. Full-length golf trousers or Capri style golf pants, golf skirts, golf dresses and Bermuda style or tailored golf shorts of an appropriate length are acceptable. They may be no higher than five inches above the kneecap and not above mid-thigh. Knee length socks, sockettes or quarter socks are acceptable. Blue jeans are not permitted.
All attire listed above as appropriate for the golf course is permitted. In addition, the following guidelines are applicable: socks are optional; sandals may be worn by ladies only; and golf hats, caps and visors must be removed when inside the clubhouse except when in transit to and from the locker rooms. Other fashions appropriate to the occasion are also acceptable.
The following are not allowed at any time, anywhere on the property: Blue jeans or jean jackets, jogging pants, short shorts, spandex, Tshirts or tank tops.
Please be reminded that the use of cellular telephones and non-vibrating pagers is forbidden in all areas of the Clubhouse, including all lounges, reception areas, verandah and patio, range and practice areas. (Men's and Women's locker rooms, and the parking lot are excepted.)